See This Article On LinkedIn
How Do You Currently Connect With Your Customers?
It's no secret that "millenial" buyers – the younger generation cruising your website on their iPhone or tablet that represent over $200 billion in U.S. buying power – despise impersonal companies and are unaffected by even the most compelling advertising you can throw at them. According to Forbes only 1% of this demographic said that advertising alone built their trust in a company. They want authenticity – a personal connection with real people in your business – before they'll think of buying from you over your competitor.
The question to ask is how are you currently engaging your website audience on your site? Are you taking full advantage of all the people coming to your site and connecting with them in a meaningful way? Or are you missing key opportunities to 'have them at hello,' missing opportunities because you lack an easy way to engage directly with your site visitors?
Live Chat Software Builds Customer Connections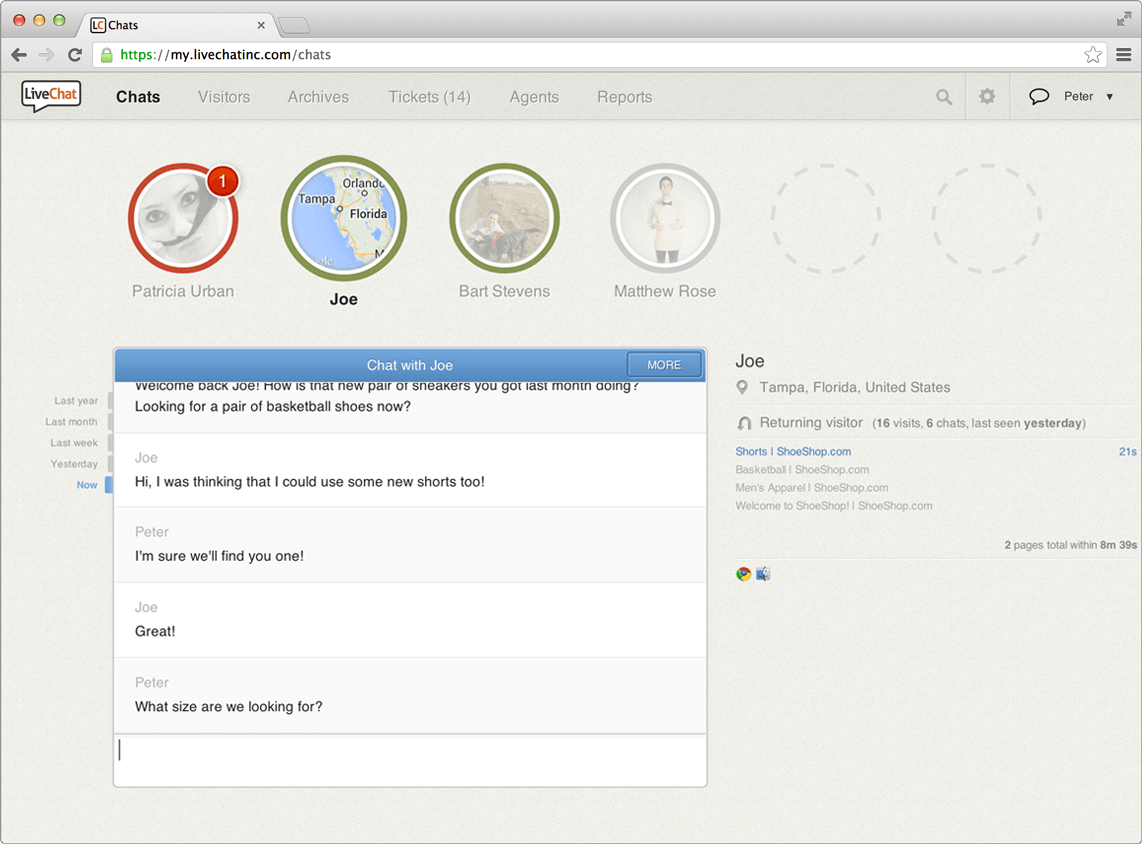 So how can you connect with a 'want it now' generation that won't wait days for an e-mail reply, and generally won't call you on the phone because they are tired of evading high-pressure sales tactics? We have found time and again what works for the majority of our clients is using the same way these customers connect with their own friends, by using a text-based chat system.
There are numerous options out there for live chat software such as Live Chat Inc, BoldChat, Olark, LiveZilla and other smaller services. After exploring different services we settled on using Live Chat Inc for most of our clients.
Live Chat gives your customers immediate, low-pressure access to your sales staff
So what exactly does live chat software let you do? Say for example you sell shoes online. A customer comes to your online shoe store and sees that you have the color they want, but it appears you don't have their size. Traditionally they have two options – make a phone call and get sucked into a high-pressure sales pitch, or send an email and wait days for a reply. Neither option is very good I would say, and most customers would just leave to a competitor's site. But let's say you have live chat software active on your site. Now they see a small pop-up window on the bottom of your website with a short message to customers letting them know they can 'live chat' with you if they have any questions. Without having to wait, our fictional customer can initiate a live chat with you, get rapid feedback from your sales staff to answer their questions and – hopefully – complete the sale!
Case Study: How Live Chat Boosted A Client's Conversions Over 220%
Well, we had thought a better way to connect with customers sounded like something our clients could benefit from with their own customer base, so we launched live chat on a site for one of our clients focused on new home buyers. Once the sales team figured out how they would staff Live Chat to cover the most popular site hours the results were amazing! Within a 60-day period matched to the previous period, their website conversion rate was up 264% to around 4.62% of site traffic engaging with them about their product.
Actual goal completions, the number of real customer engagements, went up 227% with an additional 845 customers contacting them compared to the previous period. They didn't have to even increase their marketing budget, all they did was get serious about customer engagement with live chat software. The key was dedicated live chat staffing with knowledgable team members answering customers' questions on a non-threatening, low pressure and easily accessible platform like live chat. They built personal connections rapidly with their customers, and had the sales figures to prove it!
Make Live Chat Work For Your Business
It's not enough to just sign up and flip on live chat for your site. Here are a few rules of thumb we learned to make using live chat super effective with engaging your customer base, whatever your product or service is.
Find out your peak traffic hours on your website and dedicate at least one of your sales staff to monitor live chat during that peak traffic time. For some people it could be during their normal business hours, for others it might be in the evenings when customers are more active on their website. Use a free site analytics tool like Google Analytics to get your website traffic patterns.
Find out how long the average person stays on your website before leaving. Then use the live chat settings to do an auto-prompt that greets people on your website approximately 30 seconds before most users leave, so they will potentially engage you via chat.
Use knowledgable sales staff who can actually answer your customer's questions. Outsourcing live chat to people who can't actually help your customers can cause you to LOSE business. Make sure your staffing live chat with real people connected to your company who know your product. Anyone can sniff out an outsourced overseas live chat operation in a minute, and will quickly lose confidence in your brand.
Put real pictures of your chat staff on their public chat profiles. Ever go to a website and the chat profile pic that greets you is the same blonde-haired model you saw on a different website two days ago? Yes, there are stock chat photos you can pick from to make your staff appear as muscular Swedish super models, but putting a real picture on there builds that personal connection you want with your customers. Oh, and make sure you smile!
Try It Yourself For Free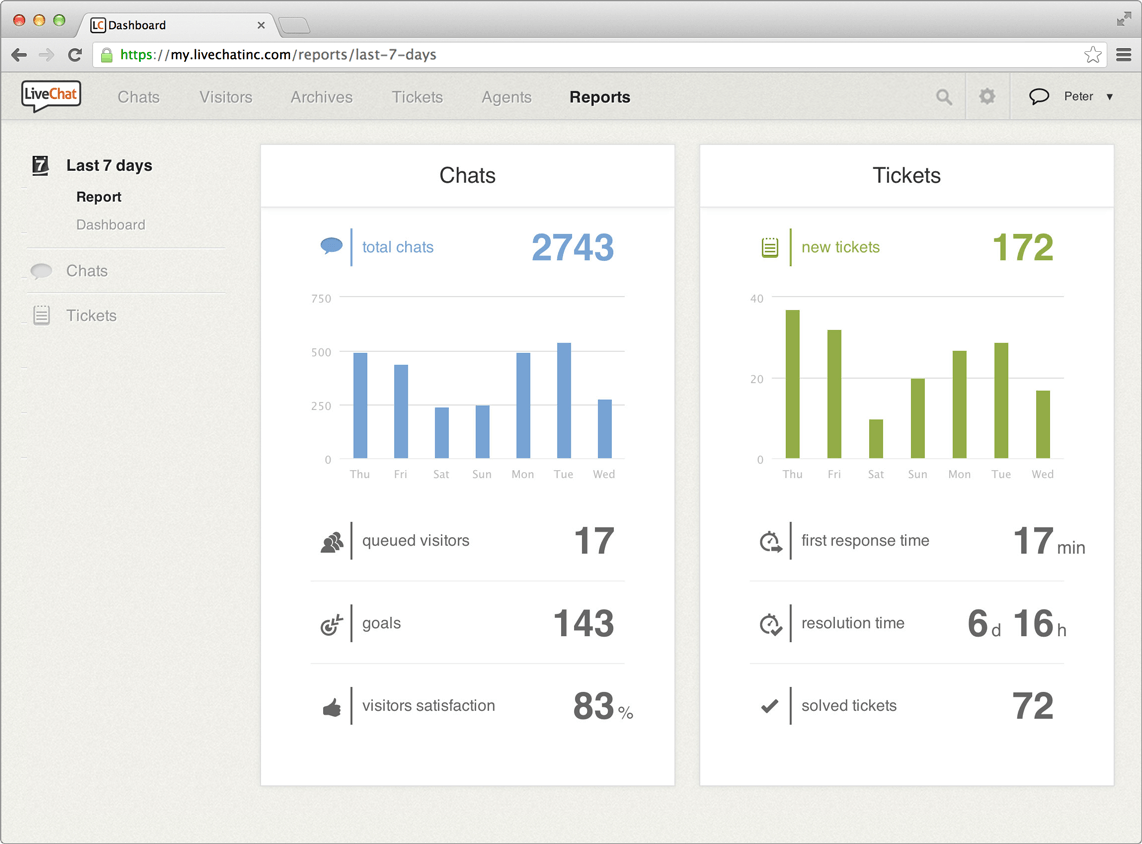 If you already have a website for your business, why not try out some live chat software for a month and see if you experience the same kind of rapid lead growth as we did with our clients. You can also use live chat as a support ticket system to provide organized, rapid response to your customers. There are several free trials out there to pick from. We would recommend trying out the 30-day trial for Live Chat Inc. They have helpful customer support so if you get stuck on the set up or use of the platform, we've found their support team responds pretty rapidly to help and has real technicians with real answers. After the trial it's only $33 per user for a team, which is one of the lower cost services we've found out there.
I hope this is a help to you and your business to grow your online presence and better engage your customer base! If you need help setting up live chat software on your website, and want to take advantage of our discounted 3 hour long Live Chat Training package with hands-on instruction for your whole team customized to your product, let us know, right now set up and training is only $199, and if you want to keep us on to make sure things run smooth on your Live Chat it's only $50/month for live, involved help from IBH staff. You can contact us now to get more details on how we can get your site set up in just a few hours with functioning live chat.

Also just a side note, we do NOT work for Live Chat Inc. nor are we affiliated in any way with them. They are just a live chat vendor we have grown to appreciate over the years while working in the digital marketing industry. However we do get a small financial return from them for any referral traffic sent to their site, but that costs nothing to you, the user, it is just a referral fee paid for recommending them. We would recommend this service anyway, but getting a few dollars to do it also helps!